Region Locked DVDs and Mac Book Pro
Recently I got a MacBook Pro 2008 from my office. I love the machine but I was completely disappointed when I inserted
Italian Job
DVD. I was asked to change the
region
to 2/4 and I stay in region 5. I own the original copy of the DVD and unfortunately, there is no Region 5 copy available in India. It was never the issue for me because in Windows,
VLC
media player could easily bypass these region codes and ignore it conveniently. [caption id="" align="alignnone" width="400" caption="DVD Regions Map"]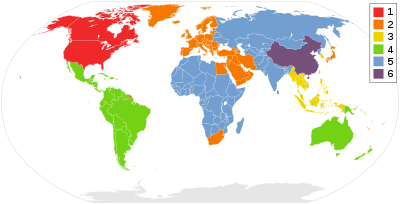 [/caption] I own few more DVDs belonging to 2/3/4 regions. I own another DVD player (my PlayStation 3) and that is also region locked. Now I have two very expensive machines and lots of
original
DVD titles yet can't play any of them. I don't know who created this *stupid* protection system which prohibits user from playing legal copies! I tried various things on my Mac -
Using VLC media player for OS X
Using utilities like MacTheRipper for decrypting the dvd
RegionX for changing the region indefinite times
None of the above works. I have almost read thousand blog / forum posts related to DVD region issues with Mac but everything was completely failure. Apparently MacBooks have this "MATSHITA DVD-R   UJ-867" super drive which has no way of getting around the protection. I don't want to replace the firmware to region free as it will void my company laptop warranty which makes me crazy. Now what reward I got by paying for the legal versions of the DVDs? In India any English movie DVD will cost you around Rs. 399-699 which is considerably expensive. You pay Rs. 800-1000 for 1 month of the internet connection. Why I will not be tempted to download nicely ripped DivX movie from torrent instead of buying freaking expensive DVDs which don't play at all? Now can I demand my money back for these movies? Can I illegally download the DivX rip of the movie and play it on my laptop and still it will be legal? I really don't know but I will never buy legal DVDs for sure!
---